Rave Reviews from Real Customers
Spice Sisters are the hottest chutney sellers this side of the world! If you haven't gotten some chutney from them you are missing out.

Michelle B.
Wonderful women & beyond tasty products.

KD
Dynamo Dust was a great spice rub for our holiday roast. My family loved it!

Eric S.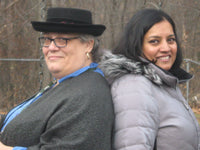 The Spice Sisters
Margaret and Yasmeen started cooking together in 2007 and discovered our "super power" is the fact that we understand the magic that happens when people share food and fellowship.  In 2018 they started Spice Sisters.
Margaret & Yasmeen's sisterhood grew from kitchen kinship and endless hours of table talk. Inspired by family recipes and a shared passion for global flavors, the Spice Sisters create unique craft condiments. They fill them with the kind of flavor that comes from fresh, unprocessed ingredients; flavors found in traditional combinations of herbs and spices and most importantly, flavor from the love in home kitchens. 
We believe that our products allow people to easily experience flavors from places that are very different from themselves.   We truly believe this makes the world a smaller, more connected place.